Granola with banana, coconut and nuts
---
This granola is super easy to make. You just mix the dry ingredients with the wet ingredients, pop it in the oven and bake. Voila! you've got a delicious, healthy and crunchy granola full of flavour.
For this granola I use coconut sugar instead of plain sugar. The coconut sugar and the oats will keep your blood sugar stable over a longer period of time. The granola is rich in carbohydrates, fibres and fat and also contains magnesium, potassium, zinc, iron, selenium, phosphor and B-vitamins. The pecan nuts contain an especially high concentration of vitamin E, which strengthens your skin and protects the cell membranes against free radicals.
Wet ingredients
---
1 banana
2 tbsps. coconut sugar
2 tbsps. agave syrup (or other syrup)
2 tbsps. coconut oil
Dry ingredients
---
750 ml oats
60 ml pecan nuts (coarsely chopped or whole)
60 ml Brazil nuts (coarsely chopped or whole)
125 ml sesame seeds
½ tsp. salt
1 tsp. cinnamon
+ 125 ml shredded coconut
Turn your oven on 175 degrees Celsius and get a baking tray ready with a baking sheet in it.
Mash the banana with a fork. Add the other wet ingredients including the coconut sugar and mix it all together.
Add the dry ingredients to the wet ingredients and mix again. You might want to get your hands in there to make sure that all the dry ingredients are mixed and sticky.
Put the mixture on the baking sheet and spread it out (don't spread it too thin). Put it in the oven for about 30 minutes without opening the oven or stirring the mixture (you want the granola to be chunky). Take it out when it's beginning to brown. Let it cool completely before adding the shredded coconut. Store in airtight containers or mason jars.
Serving suggestions
---
Enjoy your granola with fresh almond milk or on top of some coconut yoghurt. Add fresh fruit. You can even have your granola with nice cream or as a plain snack.
Tine Kotzé – Jivamukti Yoga Teacher
www.fromyogawithlove.dk
Facebook: https://www.facebook.com/FromYogaWithLove/
Instagram: https://www.instagram.com/fromyogawithlove/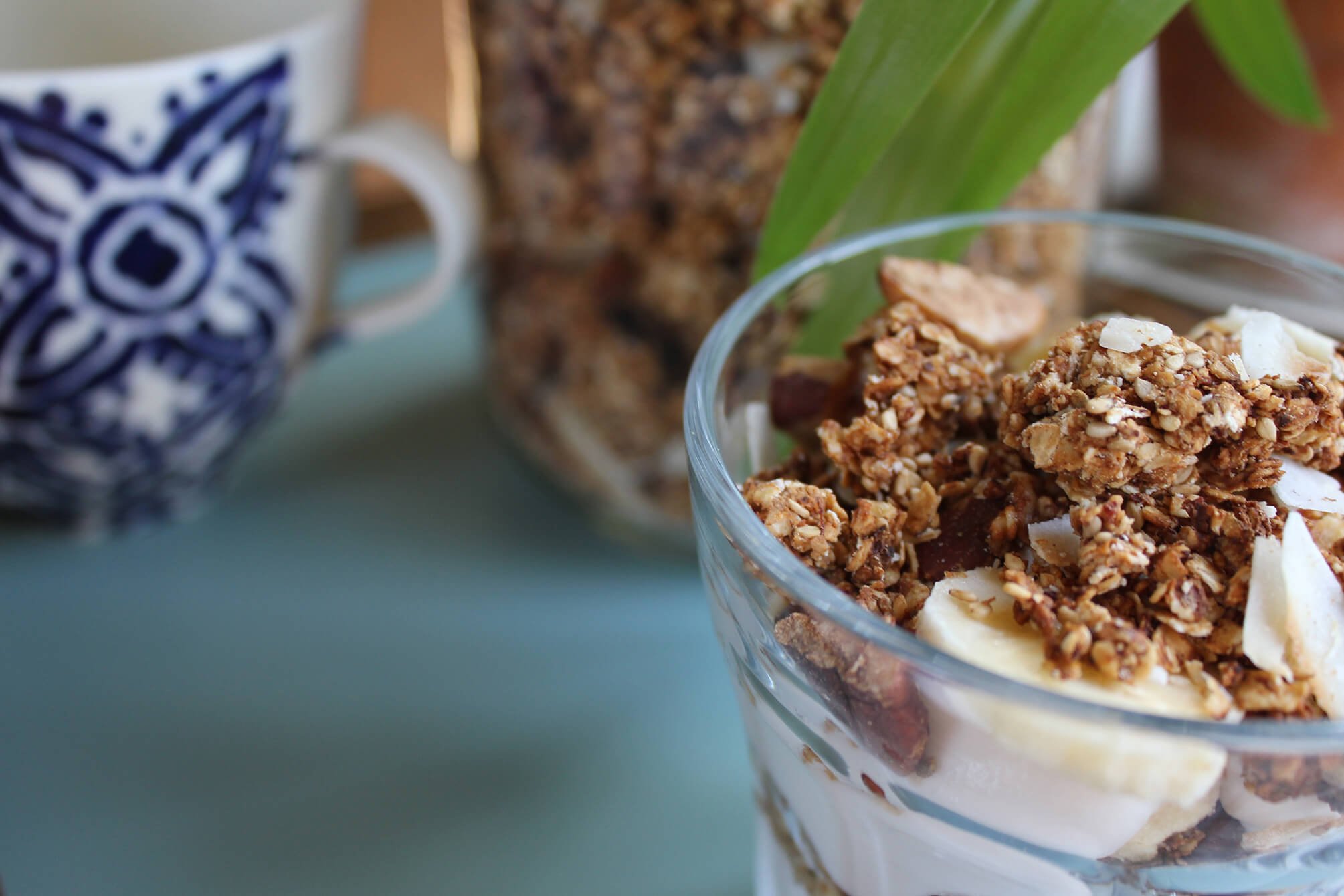 {{widget type="Convert\CatalogWidget\Block\Product\ProductsList" template="Magento_CatalogWidget::product/widget/content/grid.phtml" product_attribute="sku" title="Våre bestselgere" products_count="8″ product_attribute_values="Karna Yoga Cami – Pure White,Karna Yoga Cami – Beautiful Black,Bandha Tights – Black/White,Bandha Tights – Beautiful Black,Seamless Sportsbra – Midnight Blue,Yoga Bra – Beautiful Black,Yoga Bra – Pure White,Yoga Pantsuit – Midnight Blue"}}