Chocolate smoothie
---
We love creamy smoothies, as breakfast or before or after workouts. Enjoy this rich and healthy chocolate smoothie created by Sassa.
Ingredients for one person:
---
1/2 frozen banana
1 small avocado
1/2 dl frozen/or non frozen raspberries
2-3 dl sugar free hazelnut milk
1 tablespoon raw cocoa powder
1/2 dl gluten free oats
1/2 tablespoon almond butter
1 teaspoon cinnamon
1 tablespoon vegan protein with chocolate flavor
1 tablespoon flaxseed
ADD ON TOP
Raspberries
Coconut Chips
Sugar free granola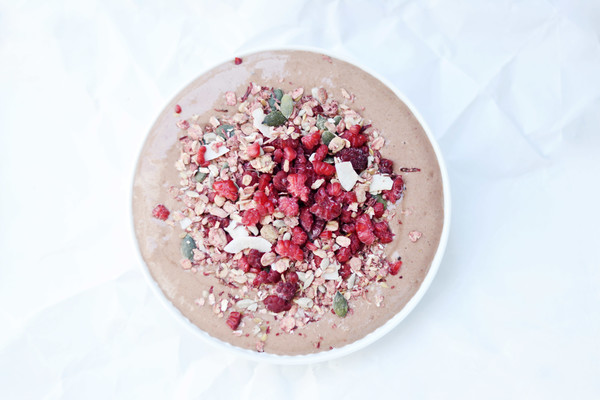 This is what you do:
---
Mix all the ingredients in your blender, use less liquid if you prefer a thicker consistency and more if you like the opposite. Garnish with granola and berries when you're done and enjoy your delicious smoothie!
FREE FOR:
Dairy products, animal products, gluten, refined sugar and soy.

Sassa
{{widget type="Convert\CatalogWidget\Block\Product\ProductsList" template="Magento_CatalogWidget::product/widget/content/grid.phtml" product_attribute="sku" title="Våre bestselgere" products_count="8″ product_attribute_values="Karna Yoga Cami – Pure White,Karna Yoga Cami – Beautiful Black,Bandha Tights – Black/White,Bandha Tights – Beautiful Black,Seamless Sportsbra – Midnight Blue,Yoga Bra – Beautiful Black,Yoga Bra – Pure White,Yoga Pantsuit – Midnight Blue"}}